For the la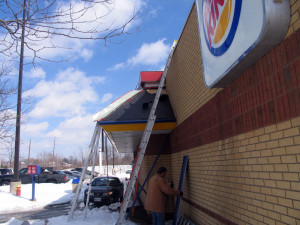 st couple of years, Tops Roofing has offered Oakville the highest quality commercial roofing service around.
When it comes to flat & low slope roofing solutions we've done the homework for you. With many years of experience under our belts, we've hand picked and selected products that will perform. All product information and technical data can be viewed in the enclosed attachments to this package.
Whether you are looking to upgrade, fix or simply add items to your commercial roof, Tops Roofing is able to provide it all. We are a multi service roofing company with a long list of satisfied clients. No commercial roofing project is too complex for our team of roofers. Tops Roofing will be there with you every step of the way.
RubberGuard Non-Reinforced Fire Retardent EPDM Membrane (Black)
Broch Insulation Boards
Broch Protectoboard
Broch Modiflex / Torchflex
Genflex Roofing Systems
Genflex Roofing systems Page 2
Lean Green & Clean
Genflex ISO Sheet
Genflex Warranty
Services
Repair & Maintenance  •  Maintenance contracts  •  Overhead crane  •  HVAC  •  Electrical  •  Natural Gas  •  Masonry
Products
Decking / corrugated steel deck – supply & install
Vapor Barrier – supply & install
Insulation / Polyisocyanurate foam core – rigid insulation
EPDM / single ply membrane – Ethylene Propylene Diene Monomer
TPO / single ply membrane – reinforced
Anchor Systems & accessories
Ballast Systems
Fully adhered EPDM & TPO systems
Curbs & sleepers – for roof mounted HVAC and related equipment
Flashings / perimeter & interior – Computer fabrication for perfect fit & sizing / 26 gauge coloured steel
Modiflex & Torchflex (SBS) 2 ply systems for small commercial, residential & repair applications.
Protecto Board
Competitive Warranties
As far as we know, there aren't any that compete. The best installation warranty we've seen is 7 years on single ply roofing. Typically, many companies are still installing B.U.R. roofing ( tar & gravel ). This type of roofing carries an installation warranty only, for a 2 – 5 year term. No product warranty at all. When the term is complete, your on your own.